Image-Guided Therapeutics & Diagnostics 2021 Trailer from Ahmed Nasef on Vimeo.
Ryerson, Sunnybrook, and the Universities of British Columbia and Colorado invite you to Image-Guided Therapeutics and Diagnostics.
November 17&18th, 2021 | 9:30 am - 12:30 pm (PST)
Building off the success of the IGT webinar series, Image-Guided Therapeutics and Diagnostics is a 2-day symposium that will bring together clinicians, researchers, students, and industry organizations who are interested in emerging diagnostic and therapeutic health technologies.
There will be invited talks on themes such as diagnostic imaging, artificial intelligence, and image-guided therapies for a multitude of applications. The symposium will provide an opportunity to network and identify opportunities for collaboration and partnership. The meeting will serve as a showcase for new innovations and products for industry partners.
Registration has closed. 
Symposium Objectives:
Create an interactive forum to hear talks about new innovations in image-guided diagnosis and therapy
Talks will encompass all areas of healthcare where image guidance is in use from cancer treatment, joint replacement, and cardiovascular care.
Academic speakers will be invited to talk about new discoveries in their area.
Industry speakers will be invited to talk about new developments and products from their companies.
Discussion about the need for collaboration, seeking expertise, and suggestions for future events will be encouraged!
The IGTD Committee believes diversity and inclusion fuel ideas and innovation. Our commitment to inclusion across age, race, gender, religion, expression, and identity is how we build our teams, foster collaboration, and create an environment reflective of the larger community. 
Agenda 
Wednesday, November 17th, 2021 (times in PST)
9:30 am - 9:35 am
Welcome Remarks
 
9:35 am - 10:05 am
Keynote Speaker: Dr. Terry Peters 
 
 

Dr. Peters: "Mixed Reality Visualization for Image-guided interventions"

 
10:05 am - 10:35 am
Parallel Session Talks (by theme, e.g., AI, Cardiovascular)
 
 

Session Theme: Diagnostics

10:05 am - 10:20 am: Dr. Sepideh Pakpour, Assistant Professor, Engineering, UBCO

Title: "Disease Diagnostics by Magnetic Levitation Systems"

10:20 - 10:35am: Qi Zeng

Title: "3D Multifrequency Liver Shear Wave Absolute Vibro-Elastography with an XMatrix Array - Towards a Real-Time Implementation via IQ Data Streaming"

Session Theme: Cardiovascular

10:05 am - 10:20 am: Dr. Ali Tavallaei, Assistant Professor, Electrical, Computer & Biomedical Engineering, Ryerson 

Title: A new approach for minimally invasive cardiovascular interventions

10:20 - 10:35am: Anahita Abbasnejad Seresti

Title: "A Multi-Scale Flow Simulation Framework for Coronary Arteries"

 

Session Theme: Oncology

10:05 am - 10:20 am: Dr. Michael Kolios, Professor, Associate Dean, Research, Innovation and External Partnerships, Ryerson 

Title: "Using quantitative photoacoustics to monitor treatment response"

10:20 - 10:35am: Jeanie Malone

Title: Endoscopic optical coherence tomography (OCT) and autofluorescence imaging (AFI) of ex vivo fallopian tubes

 
10:35 am - 12:05 pm
Virtual Poster Session on Gather.Town 
 
12:05 pm - 12:35pm

Keynote Speaker: Dr. Robin Shandas 

Dr. Shandas: "Integrating basic science, student training, translational medicine and entrepreneurship in biomedical imaging: The development of Echo PIV"

 
Thursday, November 18th, 2021  (times in PST)
9:30 am - 9:35 am
Welcome Remarks
 
9:35 am - 10:05 am

Keynote Speaker: Dr. Purang Abolmaesumi

Dr. Abolmaesumi: "Designing for Impact: AI-enabled Point-of-care Imaging"

 
10:05 am - 10:35 am
Parallel Session Talks (by theme, e.g., AI, Cardiovascular)
 
 

Session Theme: Diagnostics

10:05 am - 10:20 am: Dr. Miranda Kirby, Assistant Professor, Dept. of Physics, Ryerson

Title: "Image Guidance in COPD: Insights into Pulmonary Pathology"

10:20 - 10:35am: Jessica Kupper

Title: "Building a Labeling Methodology for Artificial Intelligence in Image Guided Therapy"

Session Theme: Systems & Devices

10:05 am - 10:20 am: Dr. Brian Courtney, Chief Medical Officer and Co-Founder, Conavi Medical 

Title: "Completing the Picture for Intravascular Imaging"

10:20 - 10:35am: Megha Kalia

Title: "An intra-operative Camera Projection Matrix Estimation for Augmented Reality for Surgical Robotics"

 

Session Theme: Urology

10:05 am - 10:20 am: Dr. Tim Salcudean, Professor, Dept. of Electrical & Computer Engineering, UBC

Title: "Augmented reality-based guidance for surgery and remote ultrasound"

10:20 - 10:35am: Michael Bailey

Title: "Image-guided ultrasound therapy of kidney stones"

 
10:35 am - 12:05 pm
Virtual Poster Session on Gather.Town 
 
12:05 pm - 12:35pm

Panel Discussion 

Panelists:

Anne Martel, Senior scientist, Sunnybrook Research Institute; Professor, Medical Biophysics, University of Toronto

Purang Abolmaesumi, Professor, Electrical and Computer Engineering, UBC

Ben Chew, Associate Professor, Urologic Sciences, UBC 

Terry Peters, Professor Medical Imaging, Western University; Scientist Robarts Research Institute

Gareth Davies, Director Advanced Development at Baylis Medical Company

Moderator: Raphael Ronen, Director, Business Development at Sunnybrook Research Institute; Director INOVAIT

 
keynote SPEAKERS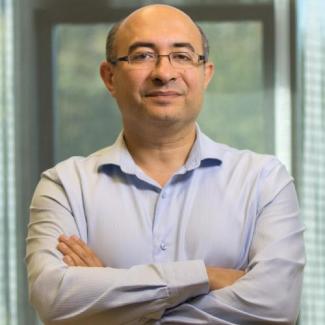 Dr. PURANG ABOLMAESUMI
Professor, Electrical & Computer Engineering, University of British Columbia
Dr. Abolmaesumi is internationally recognized and has received numerous awards for his pioneering developments in medical image analysis and image-guided interventions. He carries out research in medical imaging, machine learning, and image-guided diagnosis and interventions. Artificial intelligence and machine learning techniques are applied to diagnosis in ultrasound, magnetic resonance imaging, digitized pathology slides and other tissue images.
Dr. Terry Peters
Scientist, Robarts Research Institute & Professor, Medical Imaging, Medical Biophysics, and Biomedical Engineering, Western University
Dr. Peters' laboratory tackles problems related to Image-guided interventions. His lab is identifying brain pathologies through multi-spectral imaging and histology correlations and developing minimally-invasive heart surgery using ultrasound and augmented reality to repair structures in the beating heart! Other research aims to assist the safe delivery of anesthetic agents to critical regions such as the spine using Ultrasound and augmented reality, and the application of novel image processing approaches for prostate resection using the daVinci robot. All of these projects are supported by shared platforms of image segmentation, image registration, 3D-visualization, and instrument tracking.
Dr. Robin Shandas
Distinguished Professor and Founding Chair, Department of Bioengineering; Professor of Pediatrics (Cardiology) and (by courtesy) Surgery, University of Colorado Denver | Anschutz Medical Campus; Director, Center for Bioengineering 
Dr. Shandas has a long history of translating engineering ideas into successful clinical products and techniques. He pioneered the Echo PIV technique, an opaque flow velocimetry technique for measuring details of cardiovascular blood flow through high frame rate ultrasound imaging coupled with contrast backscatter. In pediatric cardiology, he helped develop the idea that the large pulmonary arteries play a key role in maintaining right-ventricular pumping action (the RV-PA dual-ventricle) during pulmonary hypertension. In pediatric cardiac surgery, he co-developed novel methods to assist the failing Fontan. Over the last 10 years, he co-founded 8 companies in a variety of medtech areas including new shape memory polymers for cardiovascular and ophthalmic applications (EndoShape, ShapeTech, Shape Ophthalmics), Echo PIV for hemodynamic vascular profiling (Illumasonix), new surgical bed for hip arthroscopy (MITA), and new techniques to quantify esophageal inflammation (EnteroTrack).  Many of these companies have products in the clinic; one (MITA) was recently acquired by Stryker.  Dr. Shandas founded the first bioengineering department in Colorado and established the BS, MS, and PhD degrees in bioengineering.
---
Call for Abstracts 
The IGTD Committee is pleased to invite authors to submit their abstracts for invited oral and poster presentations, to be delivered virtually through Zoom and Gather.Town. The organizers welcome the submissions of original contributions to the field of image-guided therapeutics and diagnostics.
There will be prizes for the top 3 abstracts! 
1st place: $500
2nd place: $250
3rd place: $150
Key Dates & Deadlines 
| | |
| --- | --- |
| Abstract Submission  | Closed |
| Abstract Submission Deadline | EXTENDED - October 4th, 2021 |
| Results Announced | October 17th, 2021 |
In partnership with 

Sponsors